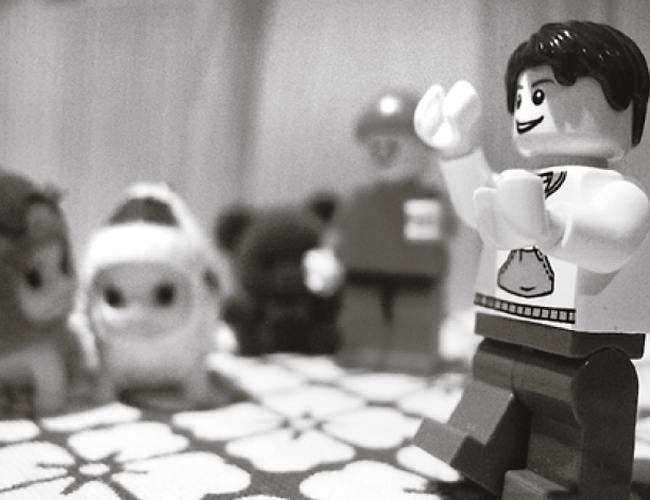 前回は、職場で敬遠していた人に積極的に話し掛けるという挑戦をしたジャッキー。今回は初めて会う全く知らない人とおしゃべりするという、さらに難しい挑戦に挑みました。果たしてその成果は?
In my last column, I talked to people I normally avoid at work. It was the first installment of a two-part challenge to see if I could overcome my fear of talking to strangers.
This time, my challenge was to talk to complete strangers. Since conversations with strangers don't trigger themselves, I knew I would have to seize opportunities as I saw them.
One morning, a woman held an elevator for me and I thanked her. The conversation could have ended there, but I tried to keep it rolling by complaining about how the trains had had lots of delays recently. I've found "gentle complaining" to be a useful way to chat with British people. That encounter was encouraging.
A couple of days later I was on a crowded train with some workmates. We were discussing holiday plans when the guy sitting next to me suddenly asked me which way our train was going, as if he'd just realized he was on the wrong train. He looked panicked, but the woman he was with assured him that they were going the right way. He seemed a bit embarrassed, but then everyone sort of laughed, and I recognized an opportunity to chat.
I began by asking him what brought them to the area. He said he and his business partner were at a fundraiser. I then asked him what he did for a living, and he said they own an African tour company specializing in luxury holidays to secluded islands.
Immediately I was much more interested. He was no longer just some middle-aged guy on the train. It seemed serendipitous to be sitting next to someone in the exact business we had just been talking about. The conversation flowed easily until I got off the train.
I must admit I might not have talked to them if I'd been alone. Being with workmates made it easier. Still, it reminded me that there are people all around us who we might find rather interesting, if we just reached out.
For the ultimate challenge, I decided to go to a nightclub all by myself. I've only been clubbing twice in the two years I've lived in London, but when the people I was planning to go with canceled, I realized, again, that this was a golden opportunity.
I had quite a bit to drink before heading off to the club — alcohol has a way of calming the nerves. I was relieved that the club was full by the time I got there, as I didn't want to call attention to myself.
I basically just stood, drank my drink, enjoyed the music, got another drink and repeated that until eventually I liked a song enough to get on the dance floor. Dancing alone isn't really any different than dancing near your friends, it turns out.
Later on, I noticed one table near the dance floor had two bottles of champagne. I asked one of the women standing there if it was a special occasion. She said it was her birthday, so I wished her a happy birthday. Then, to my surprise, she asked if I wanted any champagne — to which I said, "Sure!"
From then on, I felt like I'd been welcomed into that group, and began chatting to a few of them. I even got a few phone numbers from people and met up with one of them at another event the next week.
Many small things helped make the clubbing night go well: The music was good, the location was good, and I had the next day off. But I know the most important thing was that I showed up and, with a little liquid courage, spoke to several complete strangers. This challenge was hard, but I'm going to try to continue pushing myself to talk to strangers.
Next time: What if I ... give up caffeine?
DEAR READERS
I'm so grateful to hear your kind words and encouragement. There have been a few suggestions that I would really like to try — the next challenge is inspired by Akio-san's idea to drink only water. There's also a Twitter challenge I'm keen to try, but more details on that soon. If you have any ideas, or if you have been inspired to put yourself to a challenge, I'd love to hear from you!