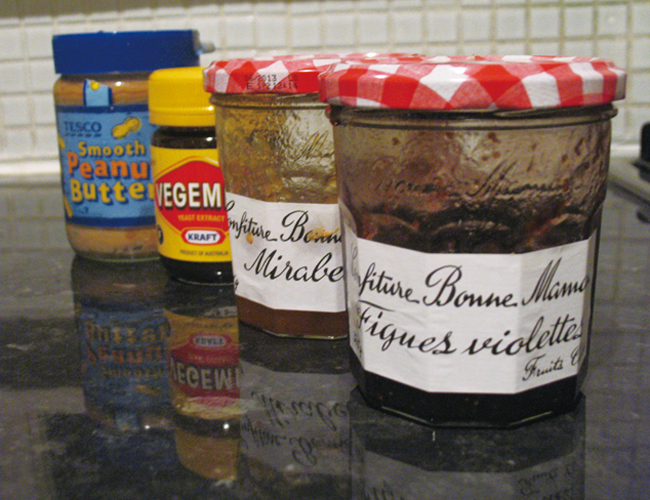 皆さんにとって「ちゃんとした朝食」とはどんなものですか? ジャッキーの場合は、自分で用意した朝食を意味します。毎朝6時25分に家を出なければならず、朝食を用意するよりも睡眠時間を優先してしまいがちな彼女。今週のチャレンジで何かが変わったでしょうか?
Ideally, a "proper breakfast" means a breakfast I sit down and eat at home before leaving for work. This could also mean a breakfast I make at home and then pack to eat on my train journey to work. It doesn't have to be anything special — usually I just have peanut butter and jam on toast. A proper breakfast is not a muffin and a coffee from Starbucks — although that is basically what I ate through my teens and early 20s.
When I moved to Japan and became an assistant language teacher, I had to learn to eat proper breakfasts or I would not make it through the morning. I would become unbearably tired, maniacally hungry, or gratuitously grouchy before the third period was finished. Teaching takes a lot of energy.
I also ate proper breakfasts when I worked at the newspaper because our shifts didn't start until the late morning. There was plenty of time.
For my current job, I have an extremely long commute — I leave the house at 6:25 a.m. and get to work at 8:10 a.m. — so I really struggle to get up early enough to make and eat breakfast.
But I'm trying to save money for my upcoming travels and I'm also trying to avoid high-calorie breakfasts that don't really fill me up, so I thought I could knuckle down and get up earlier to eat a proper breakfast — for at least one work week (I always have proper breakfasts at home on weekends, usually some kind of fry-up with eggs).
On the first day of my challenge, I woke up at 5:20 a.m. I call this time of day "flight o'clock," because I would normally only get up that early to catch a flight. But I pushed myself and did it. I had a nice slice of toast with vegemite and a coffee before getting ready for work. I still got hungry by 10:30 or 11:00, but I felt much more alert than I normally do in the morning.
On the second day, I got up slightly later so I packed my homemade toasted PBJ (peanut butter and jam sandwich, this time with Mirabelle jam) into a plastic container to eat on the train. I even made coffee for myself and took that along, too (you know how I need my coffee). Unfortunately, I think I had too much coffee that morning, so it made me really jittery all day.
The next day I skipped the coffee but still took a PBJ (this time with fig jam) with me on the train. By the third day, preparing breakfasts started to seem more normal.
The fourth day was a bit of a challenge because I had gone out for a few drinks with work colleagues the night before and didn't feel like waking up any earlier than I absolutely had to. I only managed to eat one slice of toast, and then bought some croissants for the train ride in. It was cheating but they were so fresh and delicious. (Sometimes I'm not very self-disciplined.)
On the fifth and last day, I didn't have to go into work until later in the morning, so it was easier to make breakfast. By this point, I think my body was getting used to the rhythm of eating slightly earlier.
Surprisingly, the lesson from this challenge was not really about breakfasts, or even about saving money. It was the fact that I seem to have trained myself to get up earlier and earlier every day.
I used to be the kind of person who never ever got up before 7 a.m. if I could avoid it. But somehow I've found that waking up early is not as bad as I thought. I'm still very much a night owl, but I'm learning that the early bird does, it would seem, catch the worm.
Next time: What if I ... hit the pool?