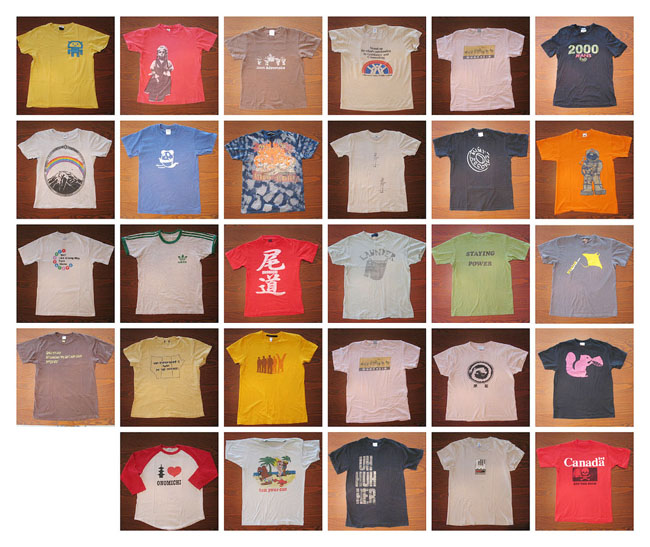 ジャッキーは2年間暮らしたロンドンを離れる前に、洋服を整理することにしました。そこで悩みの種となったのは、40枚あるTシャツ。思い出の詰まったTシャツを手放すのはそう簡単ではありません。
It seems like I wear fewer than half of the clothes I own, and I don't own that many clothes to begin with. I often fantasize about getting rid of all of my clothes and starting over. Leaving the U.K. permanently after two years presented me with an opportunity to do just that.
Getting rid of all my clothes is a little too radical for me though, so I set a target of reducing my wardrobe by half. By wardrobe, I mean the total sum of all of my clothes, not a cabinet to put them.
Because I had done a big clothes cull when I left Japan for the U.K. two years ago, the task was fairly straightforward to take on this time. You do have to be ruthless in deciding what to keep, donate or throw away, but it's very satisfying to drop off a giant garbage bag full of clothes at the charity shop. Walking away unencumbered, free from the literal weight of those possessions, is amazing.
The only problem was T-shirts. If my wardrobe were a country, T-shirts would be a protected nature reserve. I've never been able to be ruthless with my T-shirt collection because I love them so much. It's not exactly a collection in a hobby sense, but it's my shopping indulgence.
T-shirts were the one thing I usually could buy (as in "could fit" or "could afford") in Japan. I have about 40 T-shirts, and they remind me of every place I've lived over the past decade. They are like postcards — instead of filing them away in a drawer, I bring those memories to life by wearing the T-shirts.
But the fact is I don't wear a lot of those T-shirts anymore, so I'm not actually succeeding in bringing those memories to life. The T-shirts just stare at me from the cabinet asking, "Why don't you wear me anymore?"
And I always say, "One day, but not today."
Clearly, it's time for a bit of "What if I ..." pragmatism. Even if a T-shirt reminds me of a concert or a dear friend, it's still just an item of clothing, which means it exists to be worn first and foremost.
So I established a new T-shirt standard: Regardless of whether the memories attached are cherished, in order to keep a T-shirt, I have to have zero hesitation about wearing it. If I don't wear it, I don't need to keep it. Besides, I can cherish a memory with a picture of the T-shirt. So I staged a proper photo shoot of all of my T-shirts and created a collage.
Of my 40 T-shirts, I ended up donating 18, keeping 18, chucking two and putting two that I just couldn't bring myself to give away into storage (even ruthless pragmatism has its limits).
I was pretty proud of the outcome. I definitely had to close my eyes as I put them in the donation bag, but I have my pictures and my memories — and that's all you really need in the end. Lots of people in the world would feel lucky to have such a problem, and I think it's important to keep that in mind.
Next time: What if I ... watch two movies a day for two weeks?
DEAR READERS
Two readers have suggested food challenges to me. One suggested eating Filipino food. That sounds delicious, but I wouldn't struggle to eat it, so it wouldn't make an interesting read. Another suggested I try food I don't like. This would make a great challenge, but I don't have many foods I don't like. Japan made me a very flexible eater! Keep your suggestions coming and thanks for reading.